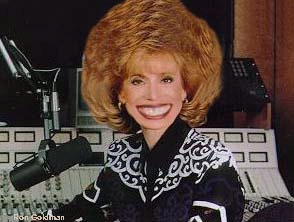 We all know what Dr. Laura Schlessinger preaches.
Let's take a look at how Dr. Laura leads her life
as reported in the media.
Laura and the Sanctity of Marriage
Laura started dating her current husband, Lew Bishop, while he was still married.1

Laura divorced her first husband after 2 years of marriage.2

Laura had premarital sex in college.6
Laura and Family Values
Dr. Laura has not spoken to her mother in 10 years.2

Dr. Laura is estranged from her sister.1

"She not only is estranged from her mother, but, according to her husband, "doesn't see much" of her younger sister."7

Laura's mother once worked for Laura as a secretary. She walked out the day Laura told her that she should learn how to type.2

"My husband HAD a prior family. And I figured I went through 12 hours of labor and a C-section. I figured, I'm going to name this thing anything I want, and I said, 'Lew, do you have any problem with the last

name Schlessinger? ' He said, 'No.' "5 (emphasis added)
Laura and the importance of a single family religion
Lew Bishop, Mr. Laura, has not converted, because "there are some things about it [Judism] that I'm still struggling with." 2
Laura and Ethics
She promotes her show as if she has a doctorate in a therapy related field, yet her degree is in physiology.3

After taking $30,000 in speaking fees, she treated her hosts rudely.4

After she was exposed for acting rudely, she failed to accept responsibility for her actions. Instead she lashed out.4
Footnotes 1. Johnson, Rebecca, "The Just Do-It Shrink" The New York Times Magazine, 17 Nov. 1996.

2. Minor, Emily J., "Radio's Dr. Laura Tells it like it is," Lexington Herald-Leader

3. Smith, Lynn, "Dr. Laura: Some Lessons in Morality from a Tough Talking Therapist," Good Housekeeping, March 1996.

4. Schwartz, Maryln, "Dr. Laura, it's the attitude, not the allergies" The Dallas Morning News

5. LA Times, 3/13/94

6. King, Patricia and Kendall Hamilton, "Listen up callers: No Whining Allowed. Tough Love from Moralist Laura Schlessinger," Newsweek, May 27, 1996: 75.

7. Washington Post, 7/26/95.


OK. OK... NOW WHAT YOU CAME TO SEE IN THE FIRST PLACE.
YA DAMN PERVERTS !!!
Ya could have just clicked on her big ugly head at the top.